Biographies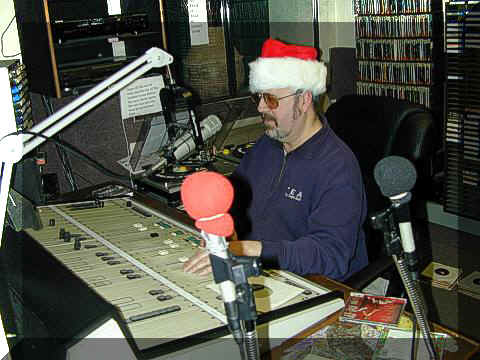 Rockin' Jim Rigsbee at the controls of radio station KPOO 89.5FM San Francisco where he does his R&B oldies show called "Grinder's Grooveyard" every Monday night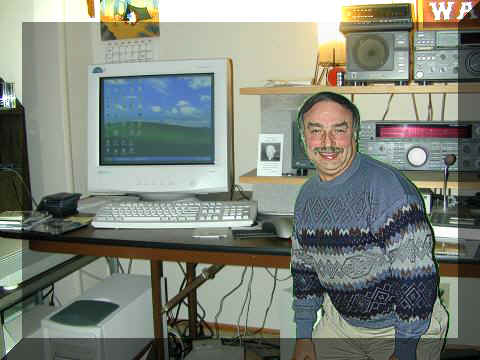 Dave Edwards at the Soul Rare production facilities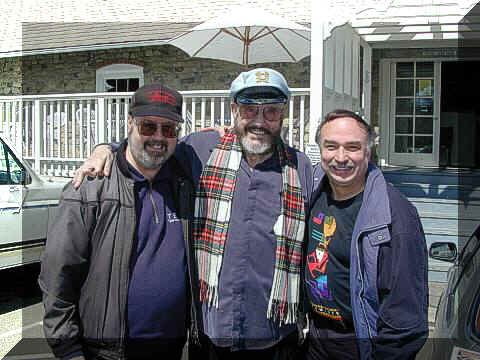 From left to right, Jim, R&B legend Johnny Otis, and Dave pose in front of the Power House Brewery and Restaurant in Sebastopol California on a pleasant Saturday morning April 6, 2002. Johnny Otis does a live radio show from the above location. His program is heard every Saturday from 9am until 12 noon on KPFA 94.1 Berkeley.
How This Site Started
If there is a vacuum that needs to be filled especially in the world of Internet streaming audio content, Soul Rare might offer a contribution. There are a few websites out there that feature Rhythm & Blues oldies of the sixties but it is really difficult to find one that features rarely heard material. Soul Rare is an attempt to pressurize the Soul void vacuum and also provide additional information about the artists. To reach this goal a combination of an extensive play list and friendly informative personalities of Dave and on many shows Jim Rigsbee who does a show called Grinder's Grooveyard on community radio station KPOO San Francisco just might be the right formula. You be the judge.

Soul Rare was started by Dave Billeci (a.k.a. Edwards) in July 1999 because of his desire to share his music and to fill a void that exists not only on the Internet but also on commercial radio. In regards to those commercial interests, profits are of paramount importance. The formula for success in this area especially for music lovers is to provide selections that are most familiar to a general audience whether it be oldies or contemporary. This spells big ratings and large advertising revenue. That's all well and good, but there is a segment of the radio listening population that has been ignored by the broadcasting industry. Fortunately times have now changed and technology is the savior. Cyberspace is providing an opportunity to meet just about everyone's need. Along comes Soul Rare…Oh sure you will hear an occasional Stevie Wonder, Marvin Gaye, Wilson Pickett, or Four Tops "Top 10" hit but what it's really all about are recordings on the R&B charts that in most cases never made it halfway up those soul charts in the sixties. That's what Soul Rare is all about. The vacuum is being filled and it's time to take advantage of what you haven't listened to in a long time and may have never heard at all.

Biography of Dave

Dave Edwards is a native San Franciscan who developed an interest in Soul in the late fifties when he was tuning is radio and came across a particular radio station that was playing a type of music that the top forty stations of that day seemed to be avoiding. It was called Rhythm & Blues. The station was KSAN, a low power AM station at 1450khz in San Francisco. His favorite announcers on that station were Jumpin' George Oxford, who eventually went over to KDIA in Oakland in early 1960, John Hardy, who joined George in 1961, and Rockin' Lucky, who remained at KSAN until his retirement in the spring of 1964. From the fall of 1959 through 1968, Dave recorded on many reel-to-reel tapes Bay Area radio. Lot's of memories were retained on this Ľ inch magnetic medium. Also during this time period, Dave purchased many of his soul favorites on 45-rpm records at Melrose Record Shop on Fillmore Street in the City. Most of those R&B singles were not available at conventional record stores.

After Dave graduated from high school in 1964, he attended City College of San Francisco and looked toward broadcast engineering and announcing as a career. His first radio experience involved the closed circuit operation of KCSF, the campus radio station. Unfortunately you could only hear the station from speakers located in the cafeteria and the volume was kept really low. In 1966, Dave got a real job at KSOL. This station was KSAN before the summer of 1964. Long time San Francisco radio and television personality Les Malloy purchased that station from Norwood Patterson and changed the call letters. Dave would fill in for the various regulars on the air; engineer Church service remote broadcasts, and occasionally did the news for Sly Stone when he was on the air. He also assisted the chief engineer with maintenance. In 1968, Dave went on active duty with the Navel Reserve and eventually made his way to Japan in 1969 as a communications technician. As a side volunteer job, he worked for Armed Forces Radio (Far East Network) in southern Japan on the island of Kyushu. He occasionally did a local afternoon-drive program but he also did a weekly program that was heard Japan-wide an AM and world wide on short-wave called Kyushu Calling. It was a mix of contemporary and oldies music with an emphasis on Soul and short vignettes about southern Japan, including its history and culture. In 1970, Dave returned to San Francisco after that 15 month stay in the Far East and got back to KSOL, however the familiar R&B format disappeared with the appearance of magnificent music and the call letters were changed to KEST. That station in the year 2002 is still KEST but the format is now multi-ethnic. In 1972, Dave became an engineer at a local television station. He has been there ever since. During the seventies and eighties, Dave's urge for radio never died. He volunteered his services in 1979 for KPOO, a community radio station in San Francisco. He did engineering for that station as well as news and was on the air with an R & B oldies show. Starting in 1987, he did a weekly show called Airchex, which was a mixture of soul oldies and sound bites from his tapes of recordings made from the radio of the Bay Area R & B formatted stations in the sixties. In 1993, he phased down the shows to an annual event on Thanksgiving Day featuring his recordings of Rockin' Lucky on KSAN from November 1962. Be sure to catch Dave and Airchex annually every Thanksgiving if you live in the San Francisco area on KPOO 89.5 FM. With the advent of the Internet being more accessible to the general public and the technological development of streaming audio, Dave became interested in doing a soul music type show in cyber space. In July 1999, Soul Rare was born. Why that name? Because his emphasis on this new show would be on rare soul…R&B sounds that haven't been heard anywhere in a very long time. The name of the show also was influenced by Jimmy Dorsey's top forty 1957 hit "So Rare", even though it is considered a middle-of-the-road tune. So alas…Soul Rare it is!! At that time it took a little effort in get to the website with its long URL since Dave didn't have a domain name setup. However, in February 2000, soulrare.com was applied for and it became a reality. Based on a recommendation of one of the Soul Rare show listeners, in March 2000 Dave was contacted by the webmaster of Livestreamamerica.com, Mitch Green and was asked to join his audio streaming family of shows. He accepted the offer and Soul Rare was added to the excellent on-demand streaming shows available on that site. Soulrare.com is the main site, but you will not beat the quality and the fun of listening to Soul Rare at livestreamamerica.com. in sure stream real audio format. Now it's time to enjoy and experience the soul.